Congratulations on Your New Aviatrix Certified Engineer Achievement!
Congratulations on new latest Aviatrix Certified Engineer (ACE) Multicloud Networking achievement. ACE is the industry's first and only multicloud networking certification program and YOU are one of the members leading the way to the future of cloud networking.
We encourage you to post your sentiments about ACE on LinkedIn and Twitter and share this accomplishment with your social network. Please use the #AviatrixACE hashtag and tag Aviatrix so we can see your post and comment back!
How do I view and download my new certificate?
To view and download your new certificate, you need to log in to your profile on our digital badging tool, Credly. Please follow the instructions here to download and save your new certificate.
How do I share my ACE achievement to my social networks?
How you choose to share your badge and/or certificate is up to you. Some ACEs like to share directly from Credly, while others like to download and share their certificates on their own.
To share your badge from Credly, please follow these instructions to share directly to your social networks.
To share your certificate on your own, download your new certificate by following the instructions above, then create a new post on your social network of choice including the certificate as an attachment.
How do I keep in touch with other ACEs?
We have a private ACE group on LinkedIn. You will have constant, direct access to ACE updates, Aviatrix staff, and other ACEs.
Are there other ways to keep in touch with ACEs and other professionals interested in cloud networking and security?
Yes! We recently relaunched our community, The Cloud Network: A Community for Cloud Networking Experts. Please join the community and introduce yourself (you may even earn a badge for doing so!).
I want to be highlighted on Aviatrix's social channels.

As part of the ACE community, we may refer to and highlight your work across our various channels. If you are interested in being featured, please give us more information about yourself so we can tell your cloud story. 
I have additional questions. Who can I ask?
Please contact [email protected].
The ACE certification has been a fantastic value-add to my skills profile and my new ability to design secure multicloud network architecture more efficiently will continue to help me progress through my career.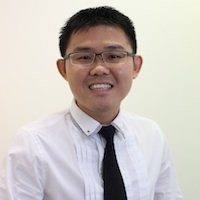 Don Chai
Senior Solutions Architect
Singtel